Green Roofs
Green flat roofs are becoming increasingly popular. They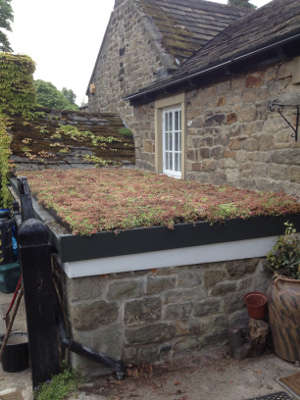 reduce energy costs by creating natural insulation and offer peaceful retreats and recreational areas. What's more, they can provide natural habitats for wildlife and they absorb storm water thereby reducing run-off into overworked sewer systems.

On a wider scale, in city environments, green roofs improve air quality by absorbing pollutants and by helping to reduce the urban heat island effect. City and suburban developments absorb and trap heat whereas evaporation from a green roof has been shown to sool surrounding air temperatures.
Innovative roofing solutions
A green roof must, like any other roof, protect the building from the elements via a high quality, totally dependable waterproof membrane. Polyroof's fibreglass systems are ideal waterproofing solutions for use with green roof systems because they are flexible enough to easily accommodate structural movement as well as being lightweight and extremely durable.
When used in a green roof system the durability of a Polyroof fibreglass roof is even further extended since there is no UV penetration. To find out more about how our green roofs can improve your home and garden area contact us today for a quote on 07774 797 000.
Wragg Roofing have a long line of experience fitting and maintaining a variety of roofs fit for all purposes. Other services that we offer include the maintenance of
fibreglass roofing
and
guttering in Sheffield
.